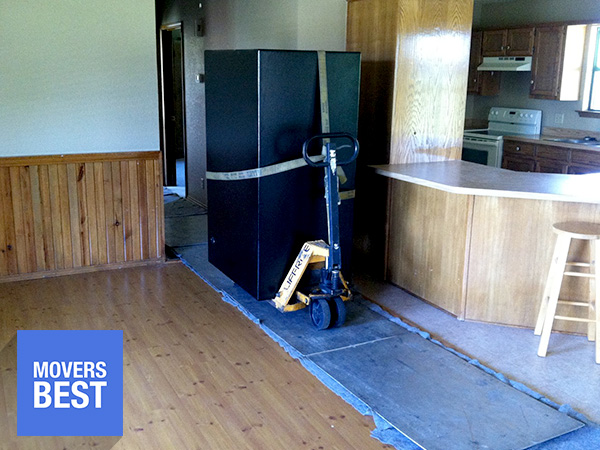 Moving a safe is hard work. Safes are typically very heavy and this is why we recommend that you outsource the task to our Mover's Best team. When you choose our company, we'll ensure that your safe is packed up perfectly and moved with great care. It's all about getting it from Point A to Point B in perfect condition.
Our experts know exactly how to move safes and they use their expertise in order to do so safely and efficiently. Safes need to be moved carefully. It's all about keeping them in mint condition, so that they function just as they should once they arrive at their new destinations. With this in mind, we take care to move safes gently. We don't rush and we avoid dinging and scratching them.  
Today, we'd like to share some more information about how to move a safe…
How We Take Care of Things
When a client hires us to move a safe, we send out a moving technician who is clean, well-groomed and experienced. This friendly moving expert then tilts the safe on one side, puts a dolly underneath of it and pulls it back upward, until it's no longer on the ground. He or she then secures the safe with a strap which is very snug. This holds it in place and keeps it from moving around while in transit.
Once the safe is on the dolly, the dolly may be rolled out to the moving van or truck. Our technician will ensure that it's placed in a nice, safe spot in the vehicle, where it won't move around while the truck or van is in motion.
Now that you know how to move a safe, you'll be ready to decide whether to move it yourself or have someone else do it. Moving a safe on your own, without experience, may be tough, especially if you don't have a dolly and the right packing supplies at your home or business. This is why choosing us is probably the best way to handle the job. In other words, let us do the hard work for you!
We charge competitive rates for our moving services and we offer the highest standard of prompt, professional service. Our heavy safe movers can handle any job, whether it's a local move, an interstate move or a cross-country move.
We Offer This Service and More
We move safes. We also do a lot more. For example, we provide a full complement of other moving services, for local and longer moves. We serve many different parts of sunny and beautiful California State and our services are so affordable. To help clients access the customized level of moving support that they need, we provide optional packing and unpacking and assembly/disassembly. As well, we offer varying levels of insurance to our customers. You may place your trust in us, as our company is bonded.
We've been helping people to move for years. We have a good reputation and we offer moving services for any size and scale of move. When you choose Mover's Best, you'll find that we provide truly caring customer service for the most affordable rates.
We believe in our customer service policies and we want you to believe in us. If you need more information about our company, we recommend checking out our web pages today. They are the best places to find the facts that you need.
As well, when you choose us, we'll make certain that you have access to fast, free quotes. We offer a moving calculator at our website. You may use it in order to submit a quote request to us. We've got everything organized for you. You just need to use the resources at our website in order to make contact, and we hope that you do.
If you don't want our optional packing services, you're certainly free to pack things up yourself. We'll even provide you with packing materials at no extra cost.
Life is too short to stress about moving a safe or anything else. When you select our company today, we'll be there to do the tough jobs for you. In fact, we'll be happy to handle every aspect of your move. You'll love our competitive rates and you'll never get hit with hidden charges.
Now that you know how to move a safe, as well as more information about Mover's Best and all that it has to offer, you should contact our team today. While you may want to shop around a bit, we want to assure you that you're safe choosing us. We'll get your precious belonging where they need to go and ensure that they arrive in perfect condition.
We'll also ensure that you never feel like a number. Now that have the inside scoop. why not connect with us today?