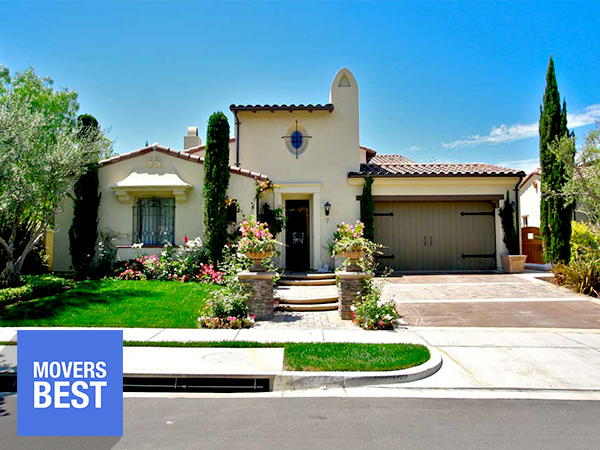 There's no simple answer to the question, "How Much Does it Cost to Move a 2 Bedroom House". The best way to figure it out is to ask our team of moving experts for a quote. We offer fast, free quotes to our customers, via our official website. In fact, we've got a moving calculator app set up which will allow you to submit a quote request in just a couple of minutes.
While we can't provide you with a specific number, we can share some important facts about the cost to move two bedroom house. For example, you should know that three moving technicians will need to work for about six to nine hours in order to move everything out of a home with two bedrooms which is fully-furnished. One moving truck will be needed in order to get the job done.
The cost of labor, vehicle maintenance, vehicle fuel, moving supplies and moving equipment will factor into the quote. However, when you choose Mover's Best, you'll find that we're able to offer you a very competitive rate for your upcoming move. Our customers appreciate our low prices and they are one key reason why our company continues to survive and thrive.  
So, please connect with us today. We'll let you know how much does a two bedroom house cost to move!
You'll Love Our Moving Services
Moving doesn't have to be stressful. The key to making it easier is choosing the right moving company and opting for a level of moving support which is really right for you. We offer so many benefits to our customers, including:
varying levels of insurance

optional packing and unpacking services

optional assembly and disassembly services

fast and free quotes

free packing materials if you wish to pack on your own

a large fleet of moving trucks and vans

good staff levels

we offer support for local moves, interstate moves and cross-country moves
We're an Orange County moving company. We're proud of our strong and positive business reputation and we believe in the services that we provide. We know that these services make it easier for our clients to enjoy pleasant moves which aren't tiring and stressful. Whether you want us to take care of everything for you or provide a lower level of support, you should know that we're here to offer you the very best service.
If you want to, submit a request for a fast, free quote or reach out via phone or email. However you connect, you'll find that our warm and friendly moving experts move quickly in order to meet your needs…and to offer guidance if you want it.
The key to accessing quality moving services for fair prices is selecting your moving company with care. We are an established and respected moving company and we have years of experience. This is why we are a safe and solid choice.
Some moving companies have shady business practices, such as tacking on hidden fees. We never do this and our customers appreciate our approach to doing business. We're ethical and our billing system is transparent. When you choose us, there won't be any unwelcome surprises.
Whether you need a full house's worth of belongings moved, or a smaller-scale move, you'll find that we have the right infrastructure. Our staff levels are high enough to ensure that every customer's needs are met. We cater to many different types of clients and take care of residential and commercial jobs. In other words, we are able to handle any job, no matter how challenging.
We're committed to delivering services with integrity and this is what sets up apart. Our technicians are clean, well-groomed and polite and they know how to get belongings from one place to another without damaging them.
When you choose us, our experts will treat your precious things as though they were their own…
Get a Fast, Free Quote Today
Now is a great time to get an upcoming move organized. The key to unlocking a stress-free move is connecting with us well in advance of your actual moving day. However, we do help people with last-minute moving jobs all of the time, so it's never too late to get in touch.
At this point, you know more about the cost of moving a 2 bedroom house. You also know that we provide a full array of moving services for fair prices. Since we have a great reputation and we are an integral part of the Orange County business community, you'll find that we provide the highest standard of service. We want to keep our reputation strong and this is why we encourage you to get in touch today.
Once you make contact, we'll reserve the right van or truck, as well as enough moving technicians to get the job done. So, why not reach out to us today?