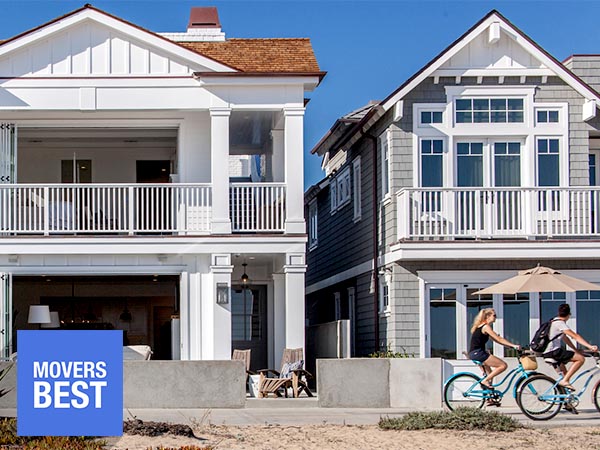 The cost of a moving job of this type will vary. However, on average, to move a three-bedroom house, you'll need four men who have one truck and work for approximately seven to ten hours. This is assuming that the home is fully-furnished. The best way to get a quote for the average cost to move a 3 bedroom house is to contact us today.
At Mover's Best, we offer fast, free quotes to anyone who wants them. These quotes make it so easy for people to find out the cost to move 3 bedroom house! Our experts will review information about your home and needs and then calculate the cost of labor and other moving expenses. Our moving techs will crunch the numbers and then provide you with a quote which is really realistic.
If we named a set number that it costs for this type of job, we wouldn't be honest. Movers need to look at specifics before they can calculate costs. The question, "how much does a three bedroom house cost to move?" can be answered, but not until we have some information. Luckily, our clients reach out to us via phone or email and let us know the particulars of their upcoming moves. Then, we make quotes.
When clients approve our quotes, we book technicians for their moves, as well as vans or trucks. We also make sure that the right equipment is set aside for the right dates. We get everything organized well in advance. This is the key to ensuring that 3 bedroom house moves, or moves of other sizes, go off without a hitch!
Moving Services Facts and Information
We offer a full complement of moving services. For example, we provide:
packing and unpacking on request

assembly and disassembly on request
free packing supplies to those who wish to pack up on their own
different insurance levels to meet different needs
bonded company
fleet of expertly-maintained cars and trucks
modern moving equipment and supplies
As well, we move people locally, within Orange County, and also take care of local, interstate and cross-country moves. Basically, we handle jobs of all sizes, so you'll be able to get the moving care and support that you need. Just call us in order to arrange your move, or use the moving calculator at our website in order to get the inside scoop on how much the move is going to cost you.
We've worked hard in order to provide our customers with everything that they need. We believe in first-rate customer service and our team is definitely standing by in order to meet your needs. Whether you need to move a houseful of furnishings and belongings or have needs on a smaller scale, we'll be there to help. If you want the most stress-free move possible, you should know that our optional packing services will be beneficial. You'll be able to focus on other things as our team members give you access to superb packing services which will ensure that your belongings arrive at their destinations in great condition.
Moving Can Be Affordable
You don't need to spend a fortune in order to access professional moving services. Our team members will offer superior services for the most competitive rates. We want your business, so we never price our moving services too high. We know that you want affordability! In fact, affordability is usually the chief concern of our customers.
If you're interested in getting things planned and taken care of, we advise contacting our team early on. In other words, getting in touch as soon as you know your moving date will be a smart way to take the pressure off. We'll get things organized by offering you a quote which you may approve. When you do approve it, we'll start reserving staff, equipment and moving supplies. If you want to pack yourself, we'll make sure that you have free packing supplies in advance of your moving day. When the big day dawns, our staff members will show up and put your things in a moving truck or van.
Moving can be easy, as long as you choose the right moving company. When you place your trust in us, you'll access premium support for great prices. We are here to make things easier for you. We know that it's possible to deliver exceptional service, every single time, and we won't let you down. Lots of people have had good experiences with our company. We're confident that you'll enjoy the same smooth and seamless transaction. It's all about getting the ball rolling by connecting with us today. Getting in touch is so easy! We'll make sure that every aspect of your upcoming move is planned to absolute perfection.
Thanks for dropping by today!